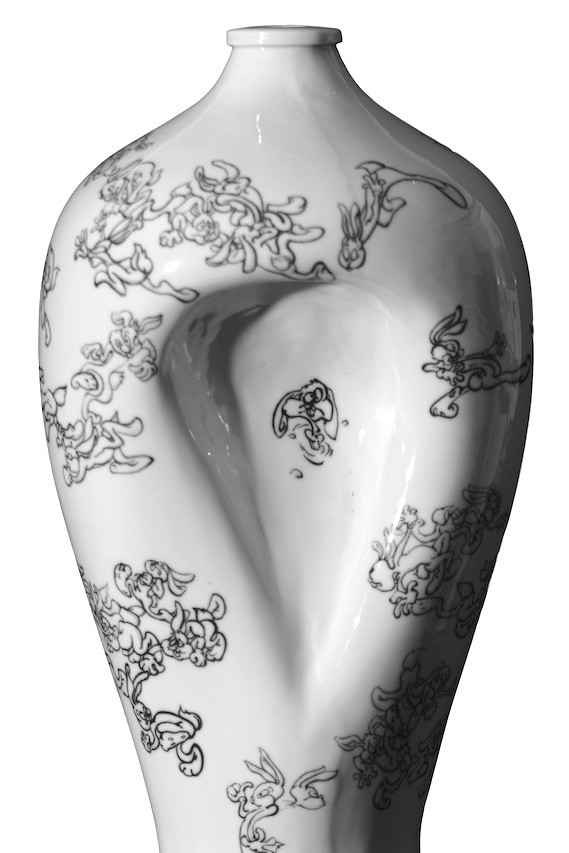 Lei Xue
Ice-blue, steel-blue, hydrangea-blue. And, what's more, Capri-blue, ocean-blue. Blue is the colour of eternal hope. Blue conveys both depth and lightness. Blue is the ultimate colour of summer. That also applies to the "Drinking Tea" artwork of Lei Xue. 

Born in 1974, Lei Xue paints, makes pottery and works on film projects. As a ceramicist he is a confirmed perfectionist. He first shapes peculiar beverage cans from clay, then uses them as moulds for his porcelain mass. After the initial of several firing stages, Lei takes to using a hair-thin brush. He loves drawing classical motifs and emblems from his Chinese homeland, more precisely: the Ming dynasty. Dragons fume, samurai dance, cherry blossoms flourish. Not the usual, run-of-the-mill style so familiar on mugs, plates and pots, but on objects like the million-fold beverage cans of the consumerist, throwaway society that end up binned, crushed and crumpled in the garbage. 

Lei's cans even boast a pull-tab opener on their lid. The artist keeps a close watch on each firing stage to ensure his objects do not shrink but emerge at exactly the right size. No can has evoked so much interest and care in cans since Andy Warhol. 

East meets west, ancient China encounters pop art and culture. Blue is the colour of hope.