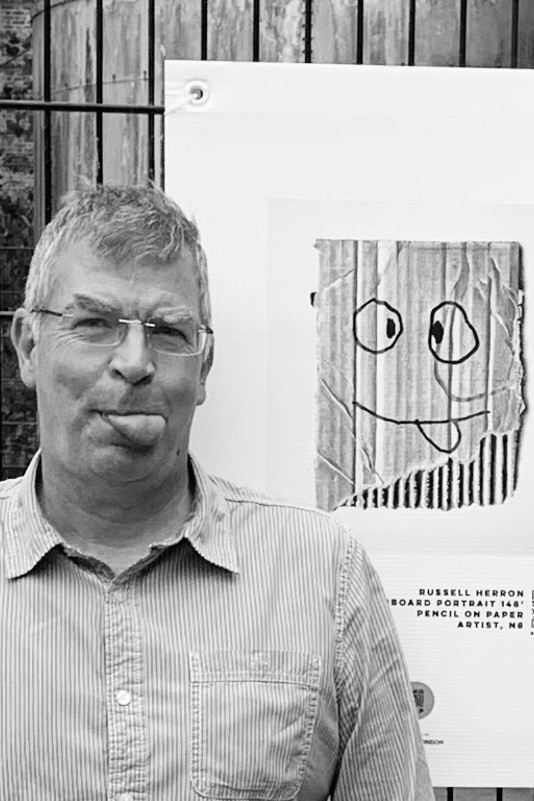 Russell Herron
Russell Herron has worked across various media, but over the last few years has become known for a series of pencil drawings of cardboard faces. During the lockdowns of 2020 he drew 100 of these small cardboard faces. "When I then have sold the portraits, it was like these lost souls were finding homes", he says. "People really seemed to connect with them."

Each one begins as a face made from cardboard, created by cutting, tearing or drawing on found material, which Herron then reproduces in meticulous detail as a pencil drawing. "They are like portraits, but without an identity", he says. "They are all influenced by the soup of images I carry round in my head; from childhood cartoon characters, film stars, artworks, medical textbooks, photographers, album covers, it all comes out somehow."

These drawings reflect his on-going interest in the broad themes of identity, history and place, concerns that have informed all his work. Russell's work is in private collections around the world. He has exhibited in solo and group exhibitions in the UK and Europe including The Royal Academy Summer Show, INC Discerning Eye at The Mall Galleries and 'Draw 19', Society of Graphic Fine Art, Menier Gallery, London. His work has been awarded various art prizes.
Russell Herron is born in Essex, UK in 1967. He lives and works in London. 
Trained in Drama, Exeter University
EXHIBITIONS
2022paper positions Berlin, group show, Galerie Commeter
 Trinity Buoy Wharf Drawing Prize, group show, Wiltshire
 Trinity Buoy Wharf Drawing Prize, group show, Dundee
 Drawing Together, group show, Surrey
 SFSA Drawing Open, group show, No Format, London
 Derwent Art Prize, group show, Paris, France
 This Year's Model, group show, studio1.1, London
2021Drawing Together, group show, SGFA, online only
 Model/Maquette, group show, Cello Factory, London
 Society of Graphic Fine Art, group show, Unlocked, Annual Open, Mall Galleries,, London
 Artists Walk, group show, Alexandra Palace, London
 This Year's Model, group show, Studio 1.1, London
 UCA Stretched, group show, UCA, Farnham, UK
 "A Letter in Mind", group show, online only
2020"Being Human", group show, Thrown Contemporary, London
 Picture Palace, group show, Transition Two, London
 Derwent Art Prize, group show, London
 Derwent Art Prize, group show, rue Saint Claude, Paris
 "as yet untitled...'", group show, Studio 1.1, London
 This Year's Model, group show, Studio 1.1, London
 Summer Exhibition, group show, Royal Academy, London
2019This Year's Model, group show, Studio 1.1, London
 Crouch End Open Studios, group show, London
 Trade Show (curated by Karl Bielik), group show, E17 Art Trail, London
 Society of Graphic Fine Art, group show, DRAW 19, London
 "Allhallowstide", (curated by Kate Street and Rhys Trussler), group show, Portsmouth Arts Space, Hampshire
 ING Discerning Eye, group show, London
2018RANDOM 2018, group show, Ply Gallery, London
 Jo Mama's Alphabet Show, group show, Studio 1 Gallery, London
 Crouch End Open Studios, group show, London
2015"The Names", Sluice Art Fair, group show, Transition Gallery, London
 Summer Exhibition, group show, Royal Academy, London
2013Artworks Open, group show, Artworks Project Space, London
 "Big Deal No 5", group show, Q-park, Oxford Street, London
2012"How To Solve Problems in the Office", group show, Trade Gallery, Nottingham
 7th Annual Terrace Open, group show, Terrace Studios, London
2010"Rhizomatic", group show, Departure Gallery, London
 "Art Trail", Latitude Festival, group show, Southwold, Suffolk
 "9 Sheds", group show, Sartorial Contemporary Art, London
2009"The Names of 500 Artists", Rhythm Factory, London
 Free Art Fair, group show, Barbican, London
 4th Annual Terrace Open, group show, Terrace Studios, London
 "The Noise of Art", group show, Swanfield Yard, London
 "Fete for the Wicked", group show, Hackney Wicked Festival, London
 "Trash Vortex", group show, TangentProjects, London
 "This Was Now: The Russell Herron Collection", (co-curator with Harry Pye), group show, Sartorial Contemporary Art, London
 "Travelling Light", group show, WW Gallery, Venice
 "Travelling Light", group show, WW Gallery, London
 "American Seed", group show, Clarke Gallery, Berlin
2008"The Worst Gift is a Fruitcake", group show, Ferreira Projects, London
2008"A One Night Stand with Russell Herron", Vinespace, London
 "Marmite Prize For Painting", group show, Studio 1.1, London
 "Russell Herron is a Real Artist", Rhythm Factory, London
 "Happy First Birthday", group show, Elevator Gallery, London
 "Irregular Pulse", group show, Ferreira Projects, London
2007Russell Herron's 69 Magazines (Martine McCutcheon), Rhythm Factory, London
 "O Dreamland", group show, Greatstone, Kent
 "Stick, Stamp, Fly", group show, Gasworks, London
 "While the City Breathes", group show, Campbell Works, London
2006Russell Herron's 69 Magazines (Geri Halliwell), Rhythm Factory, London
 "Grotto", group show, Studio 1.1, London
 "Gift", group show, Museum MAN, Liverpool
 "Objects in Waiting", group show, End Gallery, Psalter Lane, Sheffield
 "PRIVATE: Staff Only", group show, ICA, London
 "George Polke Invites", group show, London
 "Kitson Kaleidoscope", (curated by Mark McGowan and James Ford), group show, London
2005"Eng-er-Land", (curated by Cathy Lomax), group show, Gallery 102, London
 New Work, Carisbrooke Road, London
 Russell Herron's 69 Magazines (Jayne Mansfield), Rhythm Factory, London
2004Pages from Magazines, Carisbrooke Road, London
 Russell Herron's 69 Magazines (Jordan aka Katie Price), Rhythm Factory, London
2003Russell Herron's London Lighters, Norfolk Road, London
1997"This Is The Pilot", Waterstone's, Charing Cross Road, London
1996"It is November 1996. I am working at Waterstone's Charing Cross Road. These people work here too.", Waterstone's, Charing Cross Road, London