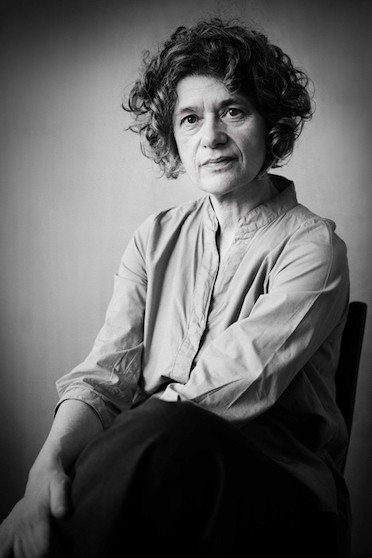 Maria Ikonomopoulou
"My work blends photography and handwritten texts with a range of techniques related to Folk Arts, like embroidery and paper cut outs. The use of traditional techniques does connect with the fundamental questioning of the balance between the collective and the individual that my work is about. The Crafts are made by traditional rules, but there creators have, though staying anonymous, always displayed a personal touch within those rules. 
Characteristic for my commissioned work is the participation of many people in the process. A growing collection of first names, based on my fascination that we wear common names though we are unique beings, has also been used in studio work like photographs and an installation 'You and Me' The project 'Growing Care' observes the edges of public space. In various cities I photograph wall gardens and flowerbeds that are individually take cre of and donated to the public space. These documents are then transformed into installations called 'City Flowers'. 
Interventions are short actions in which handmade objects are situated in public space and are given away to (or taken by) people. 
The interaction between the works for public space with many people involved, the studio pieces made in solitude and the interventions is to me very inspiring and complementary. "
Maria Ikonomopoulou
Maria Ikonomopoulou was born in Kalamata, Greece, in 1961. Since 1985, she lives and works in Rotterdam. Her works have been shown at numerous exhibitions in her home country and abroad.
1988 – 1991 studied sculpture and monumental art at the Willem de Kooning Academy

The limits of individualism and how it is possible to achieve balance between collectivity and individual longings, are issues that she explores in her work.
EXHIBITIONS
2022"Bright Days Ahead", Gruppenausstellung, Galerie Commeter;
 Art Brussels, Mulier Mulier Gallery
2021"Bright Days Ahead", Gruppenausstellung, Galerie Commeter
 "Alteration", book publication and artist talk, Museum Rijswijk, NL
 "Intens", Gruppenausstellung, Arwe Gallery, Gouda, NL
 Great Rotterdam Atelier Weekend
 "Food for Thought", Textile Biennial at Museum Rijswijk, NL
2020"To-Date", Solo-Show, Mulier Mulier Gallery, BEL;
 "Publike Werken", Rotterdam, NL;
 "Surroundings", Gruppenausstellung, Mulier Mulier Gallery, Knokke, BEL;
 Great Rotterdam Atelier Weekend, NL;
 Anthology Walgenbach art & books, Rotterdam;
 "Bright days ahead", group show, Galerie Commeter
2019Fragments 2013 - 2019, Rotterdam;
 "Bright days ahead", group show, Galerie Commeter
2017"School Etymology" public intervention during documenta 14, Kassel
2016"such a Tender Nothingness", Dutch Institute Athens;
 "Border Lines", De Aanschouw, Rotterdam;
 "Growing Ground", Eleusis Old Railway Station, Elifsina, Greece;
 "Typography as an act of Art", group exhibition, Greek state Museum, Thessaloniki;
 "finding Ling-Ling's head", group exhibition, Cookie Butcher, Antwerp
2015"syn" with Anastasia Mina, Elika gallery, Athens;
 "Art Eco – Attitudes", group exhibition, Cc Strombeek, Brussels
2014​​​​​​​​​​​​​​​​​​​​​​​​​​​​"syn" with Anastasia Mina, Walgenbach Art & Books Rotterdam;
 ​​​​​​​​​​​​​​​​​​​​​​​​​​​​​​​​​​​"Not About Flowers", Wilms gallery, Venlo
2013"Pieces as Temporary/Timeless", entrance floor of the AMOLF institute, Amsterdam;
 ​​​​​​​"Paper Art", group exhibition, Coda Museum, Apeldoorn
2012​​​​​​​​​​​​​​​​​​​​​​​​​​​​​​​​​​​​​​​​​​"Myths in Critical Times", Rotterdam art fair;
 "Paper Dimensions", group exhibition, LUMC gallery, Leiden
2011​​​​​​​"Polyglossia", group exhibition, Onassis Cultural Centre Athens
2010"galerie Wilms" with Ema von Drongelen, Venlo;
 ​​​​​​​"Hidden Memories, Lost Traces", Sinop Biennal, Turkey
2009"Speaking Water work" in the public space of Amsterdam Wilnis in The Netherlands;
 "Intimate Distances", curated by Chrstina Petrinou, Martinos antique & art gallery, Athens;
 ​​​​​​​"Expanded Ecologies", National Museum of Contemporary Art, Athens
2008"Rechtsachter", Fine Arts Centre, Rotterdam
2007​​​​​​​"Synergy", Mirta Demare gallery, Rotterdam
2005​​​​​​​​​​​​​​"looking through", projectroom TinT gallery, Thessaloniki, Greece
2004"Spaces Between Us", visual intervention for an alternative possibility of presenting independently vulnerable work in the public space
2002"Kasteel von Rhoon" with Ann Pettersson, Rhoon
2001"Meeting Tiles", work in the public space of Zevenaar in The Netherlands;
 "Handwerk", Clarart gallery, Rotterdam